Weather radar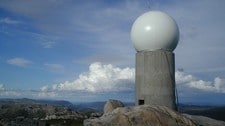 The weather radar shows where there is precipitation (rain, snow and sleet) right now. The radar images update every 15 minutes. The color indicate the intensity of the precipitation. The Norwegian radar infrastructure is expanding and does not yet cover the whole country.
Read more about weather radars here.
The weather radar page has moved
We have changed the resolution of the radar images from 7,5 minutes to 5 minutes. This has resulted in a heavy load on our back-end systems, forcing us to shut down this page. You can still find the same map on our new website.
Questions about the weather radar and observations
Do you have questions about the weather radar or other observations? Send us an e-mail here:
Questions about radar and observations
.